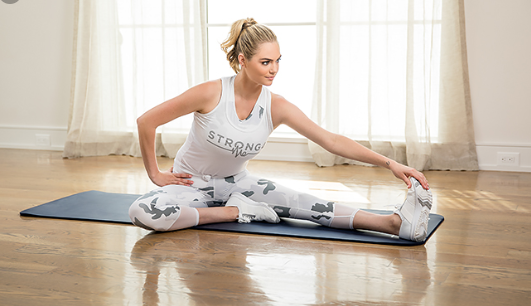 Model and actress Kate Upton has long enjoyed a reputation for both her beauty and her fitness, but following a successful association with trainer Ben Bruno she has developed a simple workout routine that she has developed into Strong4Me, a 12 week program.
The first part of the 12 week program is shared with Health.com and we show that for those who want to get into shape.
Split Squat
IMAGES COURTESY OF STRONG4ME FITNESS
Stand with feet hip-width apart, then step back with your right foot into a staggered stance, hips square. Place your hands on hips, and draw shoulders back. Bend your back knee, and drop it straight down until your front thigh is parallel with the floor and your front knee makes a 90-degree angle (A). Hold for 10–15 seconds; then extend your legs to rise to the start (B). Do 10 on each leg.

Shoulder taps
IMAGES COURTESY OF STRONG4ME FITNESS
Start in a high plank position (A). One at a time, take your hand and tap the opposite shoulder (B). Return to the starting position, and repeat using the other arm (C). Do 8 on each arm.
"Eccentric" leg curl on stability ball
IMAGES COURTESY OF STRONG4ME FITNESS
Lie on the floor with your feet and lower legs on the top of the stability ball and your arms along your sides. Raise hips off the floor so your body is in a straight line and your core is tight (A). Pull the ball toward you slowly (B). Slowly straighten your legs, pushing the ball back. Repeat 10 times.
Hip thrust
IMAGES COURTESY OF STRONG4ME FITNESS
Start with your back on a bench, box, or another fixed object and your feet planted on the floor in front of you. Lower your hips down so your glutes almost come in contact with the floor (A). Press through your heels and squeeze your glutes to lift your hips until your body is in line with the top of the bench (B). Slowly return to starting position. Repeat 10 times, holding at top for 1 second each time.
Plank
IMAGES COURTESY OF STRONG4ME FITNESS
Lie facedown with your forearms on the floor and your elbows directly beneath your shoulders. Keep your feet flexed with the bottoms of your toes on the floor. Rise up on your toes so that only your forearms and toes touch the floor; draw your navel toward your spine, and tighten your buttocks. Hold for 45 seconds.